This year, Chaitra Navratri is starting from the 28th of March 2017 and shall continue till the 5th of April. MyKundali would be honoured to have you on board with our Chaitra Navratri 2017 manual which would be your best companion helping & advising you through these 9 days.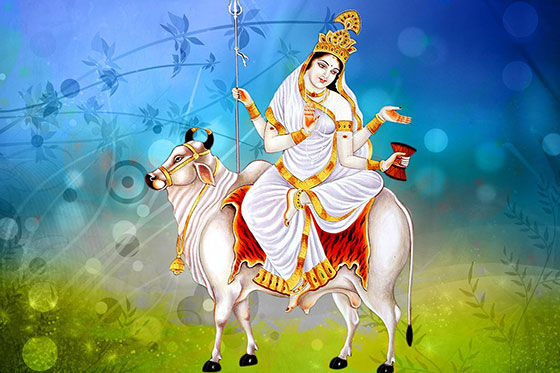 Ghat Sthapana Muhurat: Morning 8:26 A.M. to 10:24 A.M.
Every year thousands of followers and believers from all across the world observe a 9 day fast starting from the Chaitra Navratri where in we pay our deepest respect to Goddess Durga & all her avatars. On the commencing day of the Chaitra Navratri 2017, the goddess under the spotlight is Maa Shailputri, who is known to absolve us from all the sins that we inadvertently end up doing. She rights all our wrongs & keep us safe like a child in its mother's arm. Goddess Mahakali, Goddess Mahalakshmi, and Goddess Mahasaraswati are worshipped the most in Navratri. The most important of process of the Navratri is the 'Ghat Sthapana', after which all other blissful activities take shape.
Appearance of Goddess Shailputri
Goddess Shailputri mounts a bull and this is the reason that she is also known as Vrisharudha (वृषारूढ़ा). Goddess Shailputri is vividly illustrated with two hands. She carries a Trishul in the right hand and a lotus flower in the left hand.
Mantras for Goddess Ghatasthapana
The following mantra should be chanted for Shailputri Devi –
'Om Devi Shailputraye namah ||
Vande Vaanchitlaabhaay Chandrardhkritshekhram |
Vrisharudhaa Shooldharam Shailputrim Yashasvineem ||
ॐ देवी शैलपुत्र्यै नमः॥
वन्दे वाञ्छितलाभाय चन्द्रार्धकृतशेखराम्।
वृषारुढां शूलधरां शैलपुत्रीं यशस्विनीम्॥
Legend
As far as the legends go about this, Maa Durga took birth in the home of the King of the Himalayas (Parvat Raj Himalayas). This lead all her avatars to be named after the King of the Himalayas, who was also known as Hemavana, & this is from where she came to be known as Hemavati. Just so you know, Shailputri is a Sanskrit name, which means – the daughter of the mountain (Shail = Mountain, Putri = Daughter).
Astrological Aspect
Goddess Shailputri administers the Planet Moon. Therefore, by worshipping Maa Shailputri the ill effects of the Planet Moon can be neutralised.